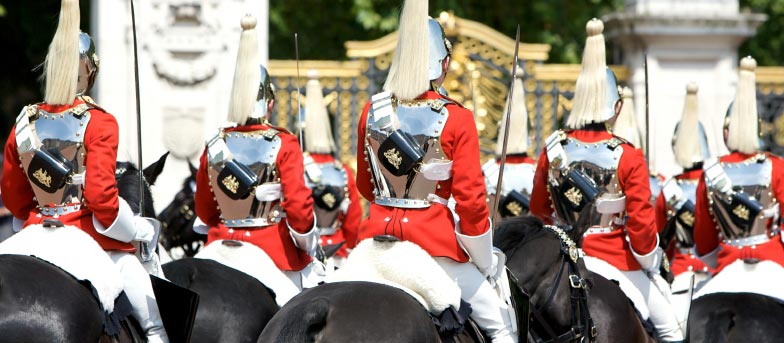 Belgravia can be described as a pocket of prosperity – and a very big one at that!  It's one of the wealthiest districts in the world and is bordered to the north by its more well-known neighbour, Knightsbridge, and to the east by Buckingham Palace.  It's a relatively quiet area characterised by grand Regency-style streets, palatial properties and secret garden squares. The architecture is grand and impressive. featuring a mix of stately white-stucco mansions, picturesque mews houses, embassy buildings and eclectic, one-off shops.
Belgravia's central location, less than three minutes from London's centre, makes it ideal for Hyde Park, the Royal Albert Hall, London's many museums and galleries, the West End, and of course, Harrods and Harvey Nichols department stores. Wander the streets and absorb the grandeur or take advantage of the excellent transport links to explore further afield.
Museums & Galleries:
Buckingham Palace: you may not be able to have tea with the Queen but during the summer months when the Queen travels to Balmoral Castle in Scotland, the palace is open to the public. The tour features 19 lavishly furnished staterooms, including the Throne Room, Queen Victoria's Picture Gallery (with works by Rembrandt, Canaletto and Vermeer) and part of the gardens.
http://www.royal.gov.uk/theroyalresidences/buckinghampalace/buckinghampalace.aspx
Apsley House: Originally the London home of the first Duke of Wellington (famous for defeating Napoleon at the Battle of Waterloo), Apsley House dates back to 1778 and retains some of the finest Regency interiors, unrivalled silver and porcelain collection and paintings by Velazquez, van dyke and Rubens. The Wellington family still reside at the property, which is colloquially known as 'Number 1 London' because it was the first house after passing the tollgates at the top of Knightsbridge.
www.englishheritage.org.uk/ApsleyHouse
London's three World Famous Museums are conveniently nearby in South Kensington and entry is free (charges do apply for temporary exhibitions):
The V&A (Cromwell Road)
Natural History Museum (Cromwell Road)
Science Museum (Exhibition Road)
Saatchi Gallery based in the Duke of York's Headquarters, King's Road, the Saatchi Gallery is a must for contemporary art fans.
www.saatchigallery.com
The Osborne Studio Gallery on 2 Motcomb Street specialises in sporting paintings, landscapes and figurative works by leading contemporary artists.
www.osg.uk.com
The Royal Court Theatre, Sloane Square, is perfect if you love the theatre, the Royal Court specialises in modern productions featuring the work of innovative writers from around the world.
www.theroyalcourttheatre.com
Green Spaces:
Hyde Park whether you want a gentle stroll or to push your body to the limits, there's plenty of space and opportunity for both.
http://www.royalparks.org.uk/parks/hyde-park
Chelsea Physic Garden  (66 Royal Hospital Road) is London's oldest botanical garden and if you're interested in gardening it's definitely worth a visit. It's not open every day (particularly during the winter months) so it's worth checking before you visit.  It's a perfect way to spend a sunny afternoon and there's also a lovely café within the grounds.
www.chelseaphysicgarden.co.uk
Or, if you simply enjoy wandering and soaking up the atmosphere, there are farmers' markets on Pimlico Green and in Duke of York's Square on Saturdays which are great for locally made goods and freshly sourced produce.
Shopping:
World-famous department stores Harrods and Harvey Nichols are both within easy walking distance, as well as designer brands. If you're looking for little-known boutiques, Austique(330 King's Road) and Musa (31 Holland Street) are worth a visit and stock niche brands and accessories (Musa's sandals are must-have investment).
Motcomb Street is a cobbled street with individual charm and home to high-end specialist retailers in fashion, art and antiques, as well as health and beauty salons and top-quality restaurants.
Elizabeth Street features an abundance of sophisticated and quirky shops ranging from Henry Stokes stationer, to hat maker Philip Treacy's only London store and jewellers Erickson Beamon, De Vroomen and Kim Poor.
Elystan Street:is a second hand clothes shop, Sign of the Times (17 Elystan Street) is brimming with designer finds: barely worn Louboutins, Jimmy Choos and Bottega Veneta bags have all been spotted in store. If you're lucky, you might even find a classic piece of Chanel.
Restaurants:
As you'd expect, there's a lot of fine dining in Belgravia, but it's also possible to find friendly cafés and less formal restaurants. Below are some suggestions in the area to investigate:
Amaya: a traditional curry house that serves up something different.
Motcomb Street
http://www.amaya.biz/
Zafferano: Italian cooking as an art form. Very popular and booking is recommended.
15 Lowndes Street
http://zafferanorestaurant.com/
Nobu: Very fashionable, very celebrity central. High end Japanese food with a big reputation.
Old Park Lane
http://www.noburestaurants.com/
Le Poule au Pot: French bistro, entertaining waiters and regularly voted the most romantic restaurant in London.
231 Ebury Street
http://www.pouleaupot.co.uk/
Grenadier: diminutive pub famous for its resident guardsman who not only gave his name to the place but continues to haunt it too.
18 Wilton Row
Boisdale of Belgravia: Lively Scottish restaurant with cigar terrace, whisky bars, private dining rooms and live jazz every night.
15 Eccleston Street
http://www.boisdale.co.uk/
Olivomare: Sardinian cuisine.
12 Lower Belgrave Street
http://www.olivorestaurants.com/
Santini: Mid-range, modern, minimalist Italian dining.
29 Ebury Street
http://www.santini-restaurant.com/
Petrus: Michelen starred restaurant with a fierce reputation.
1 Kinnerton Street
http://www.gordonramsay.com/petrus/
The Pantechnicon: Gastro Pub.
10 Motcomb Street
http://www.thepantechnicon.com/
Ottolenghi: Middle-eastern influenced delicious deli and café.
13 Motcomb Street
 http://www.ottolenghi.co.uk/
Baker and Spice: a great place for tea, coffee, cakes and delicious deli food.
54 Elizabeth Street
http://www.bakerandspice.uk.com/
Eclipse: good for cocktails and late-night drinks.
11 Walton Street
A Short History:
How times change: in the 17th century Belgravia was a desolate swamp and windswept pasture known as 'the Five Fields', a notoriously dangerous place to be avoided.  Around the same time, the Grosvenor family inherited the 400 acres of land and named the area Belgravia after Belgrave, a village on their family estate in Cheshire, England.
Fortunes changed in 1825 when King George IV decided to make Buckingham Palace his permanent residence.  The Grosvenor family seized the opportunity by commissioning architect Thomas Cubitt to build an area of exclusive housing on this newly fashionable land.  The grand, classical designs survive to this day and are considered to be amongst the most fashionable residential property in London.  Past and present Belgravia residents include historians, poets, princes, statesmen, industrialists, inventors, field marshals, scientists, actors, politicians, painters and reformers.
Today, it's one of the most exclusive areas in London and home to A-list celebrities, the privileged and the super-rich, entrepreneurs and oil tycoons, Russian oligarchs and business magnates.
Don't forget our 24-Hour Concierge service  can help arrange your tickets, transport and restaurant reservations.
To view Maykenbel's serviced apartments in Belgravia: