17 Hertford Street
Mayfair, London W1J 7RS
★★★
WELCOME SUMMER PROMOTION – SAVE UP TO 25% >>

Up to 25% off when you book a Studio or One Bedroom Apartments. 

(terms)
17 Hertford Street serviced apartments offer space in a prime central London location. With 9 apartments and a choice of Studio and One Bedroom accommodation,  all designed to provide the maximum comfort, space and light, it's the ideal location for business travellers.  Daily Housekeeping is available everyday, including Sundays. The check-in is at number 20 Hertford street where we have 24 hours Reception/ concierge.
<p">Hertford Street is one of the oldest streets in London's fashionable and exclusive area of Mayfair. Dating back to the mid-1700s, it is close to Shepherd Market, a historic square and piazza with a variety of boutique shops, restaurants and Victorian pubs.  The area is surrounded by Hyde Park, Park Lane, Oxford Street and Piccadilly and Regent Street and convenient transport links provide quick and easy access to the Capital's business districts, the political hub at Westminster and Whitehall, the West End and other tourist and shopping attractions.
Apartment Rating: ★★★
Facilities: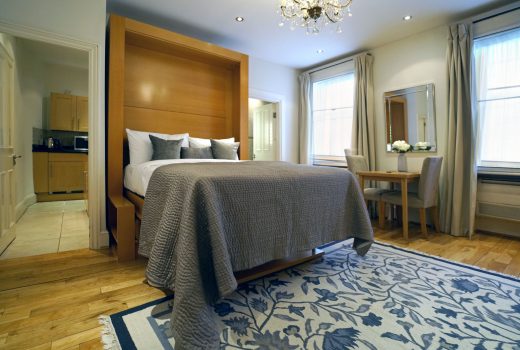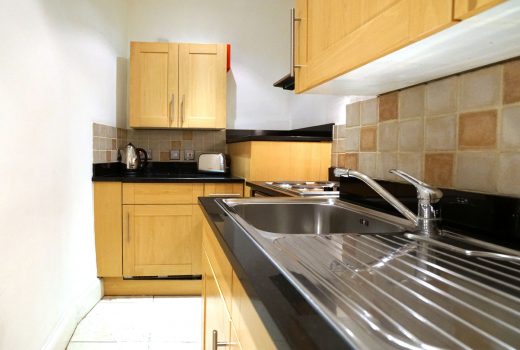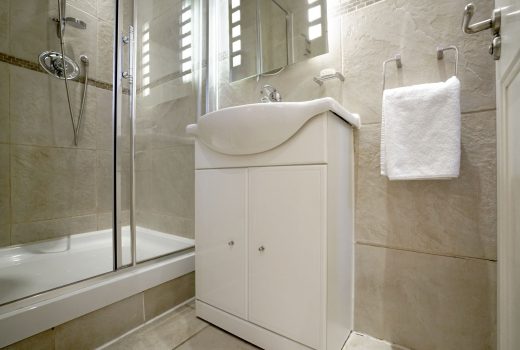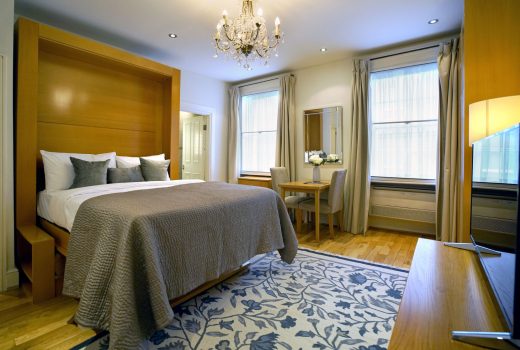 Studio Standard
Two spacious Studio apartments located on the second floor. Features include a comfortable Living/Dining area with pull-down Double Bed, flat screen TV/DVD, Wi-fi (with a wide selection of satellite channels, a fully equipped Kitchen. Bathroom with power shower.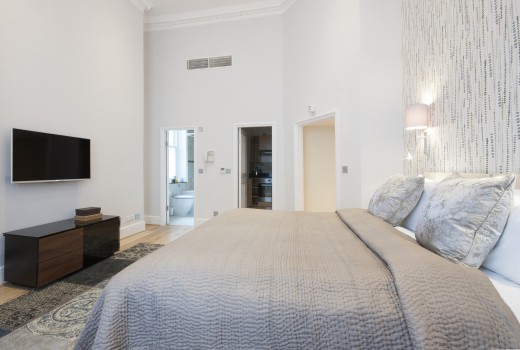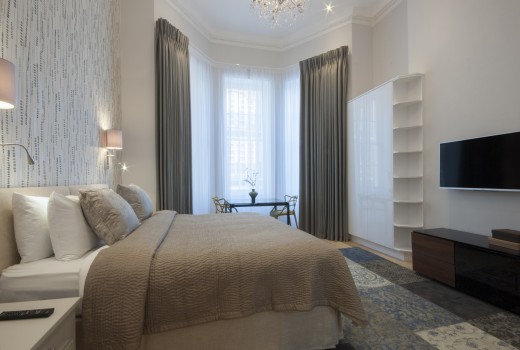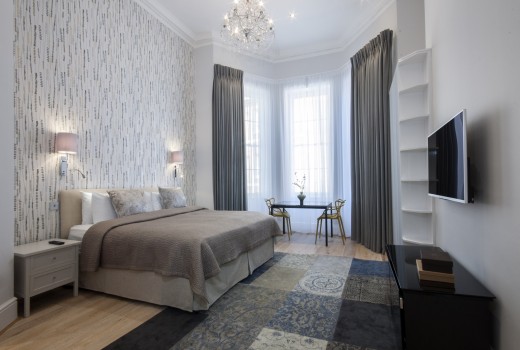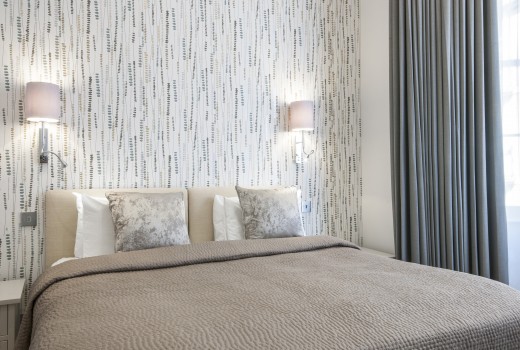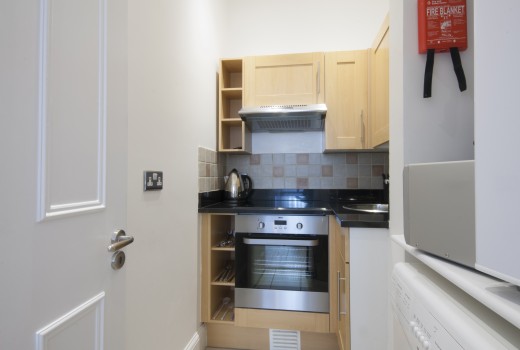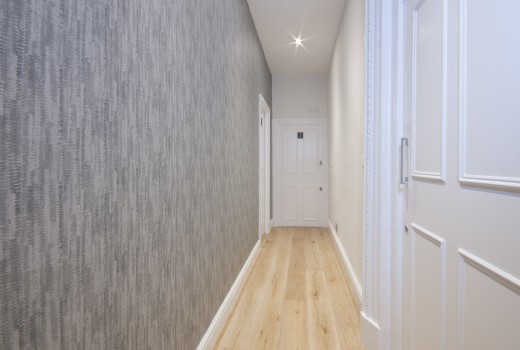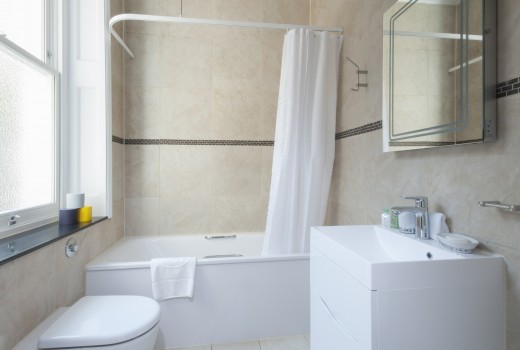 Studio Deluxe
Two newly refurbished apartments located on the first floor with high ceilings and maximum light.
The apartments feature a spacious Living/Dining area with flat screen TV/DVD (with a wide selection of satellite channels), Wi-Fi, one a apartment with King-size Bed and one apartment with Double bed, fully-equipped Kitchen, and Bathroom with power shower.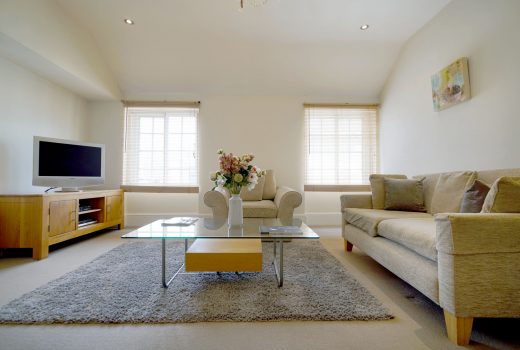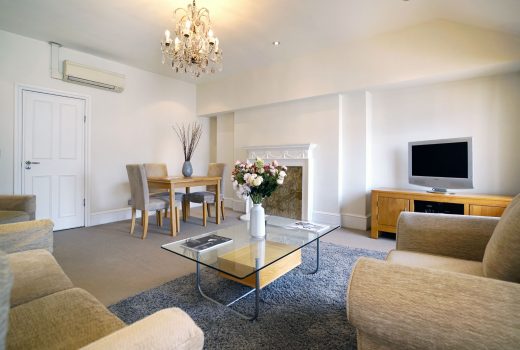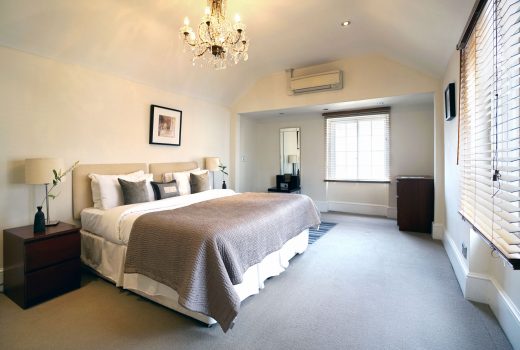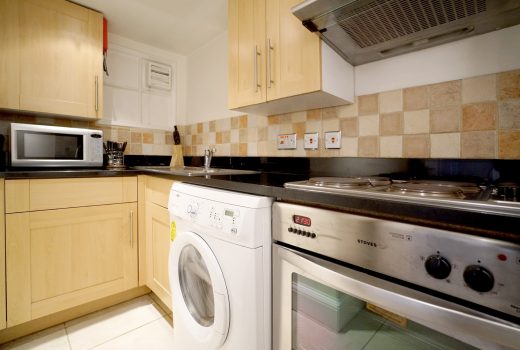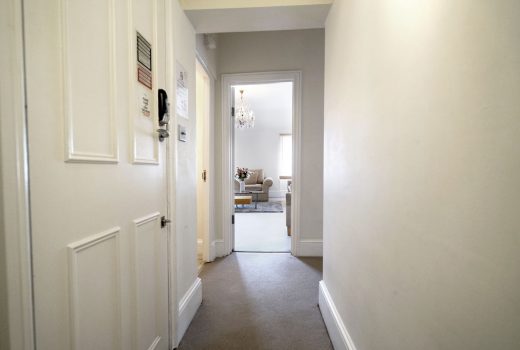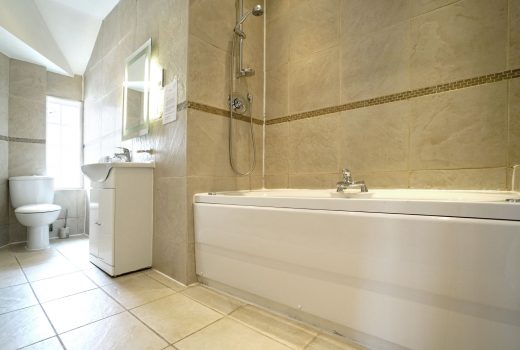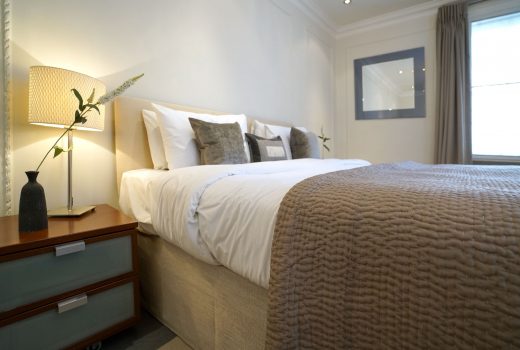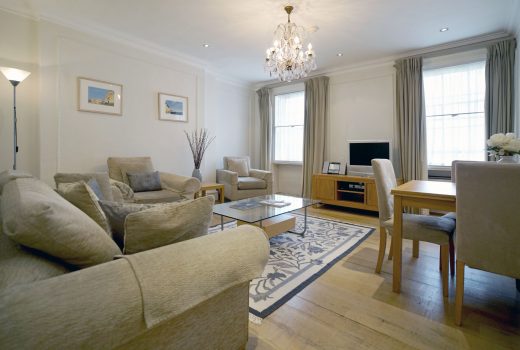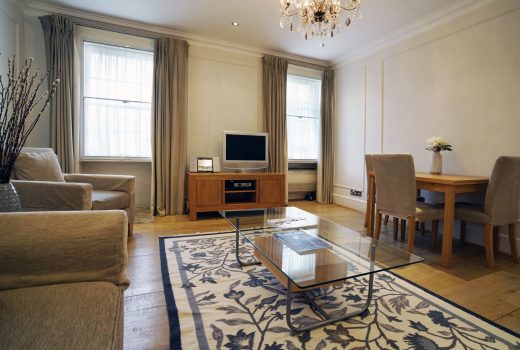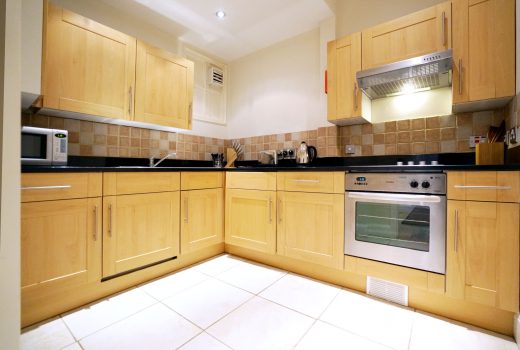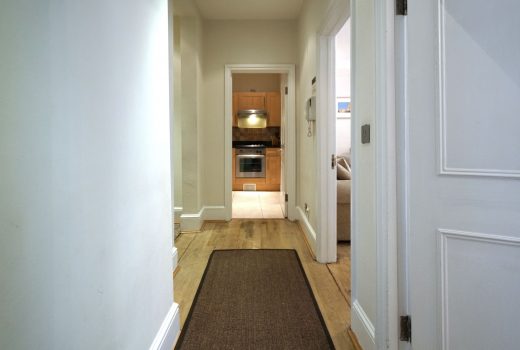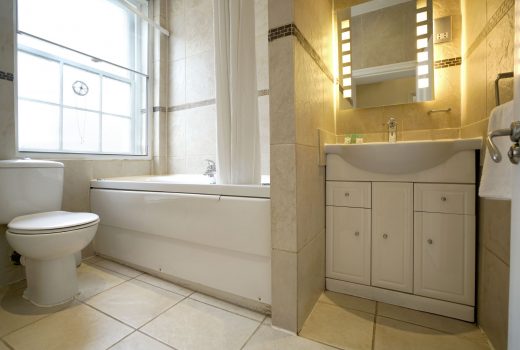 1 Bedroom Standard
One Bedroom apartments feature a spacious Living/Dining area with high-quality audio-visual system, flat screen TV/DVD ( with a wide selection of free satellite channels) and Wi-Fi. The Bedroom is fitted with a Queen-sized bed (arrangements can be made for an extra bed, if required) and the Bathroom includes a bath and shower. The modern Kitchen is fully equipped with appliances including a washing machine/dryer.
Please note: there are 3 Standard One Bedroom apartments: one located on the Second Floor and two on the Third Floor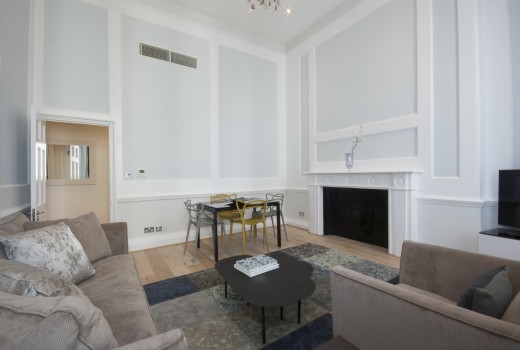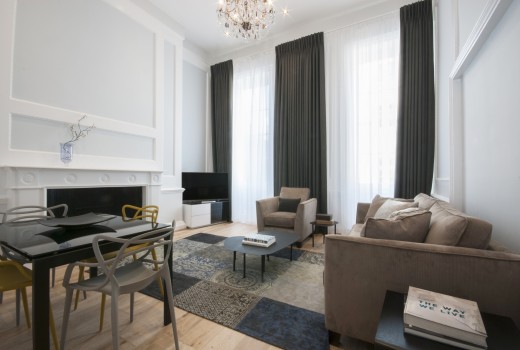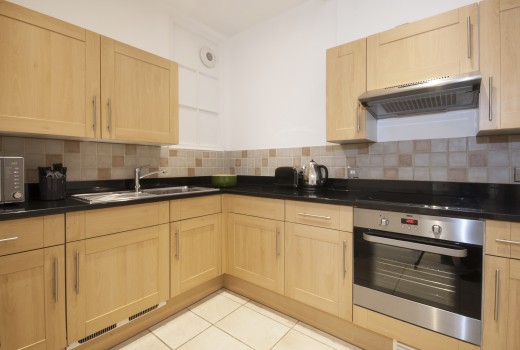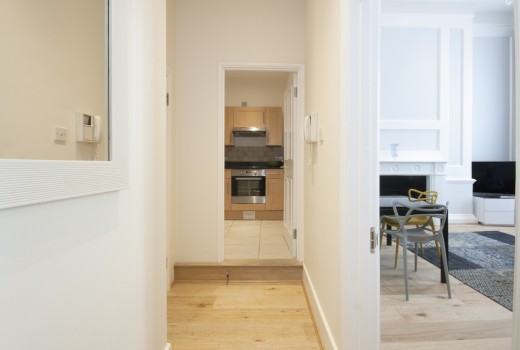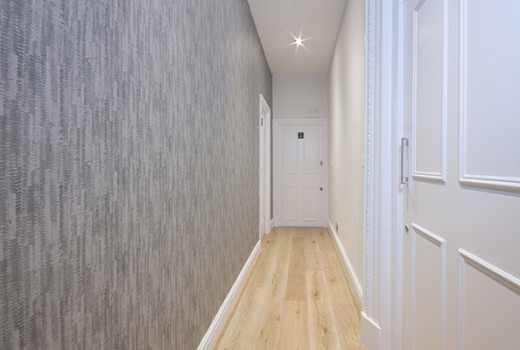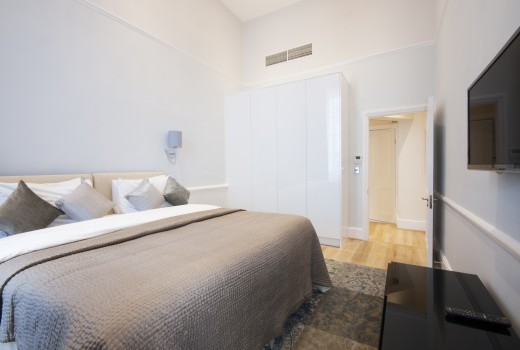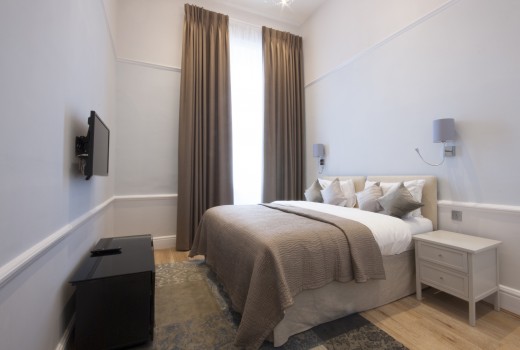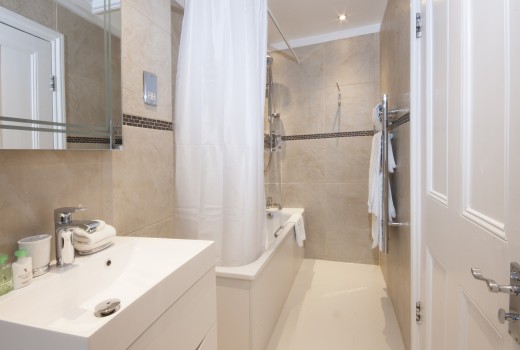 1 Bedroom Deluxe
This newly refurbished apartment located on the first floor, features high ceilings, maximum light and spacie.  The Living/Dining area includes high-quality audio-visual system and flat screen TV/DVD (with a wide selection of free satellite channels) and Wi-Fi.  The Bedroom is fitted with a King-size bed (arrangements can be made for an extra bed  if required) and the Bathroom includes a bath and power shower.  The modern Kitchen is fully equipped with appliances including a washing machine/dryer.
Apartment size: 55m² /669ft²
Photos are representative of typical apartments within the property
Luxury Car Transfer Service
We provide high class vehicles to help you get around London and to your destination. Airport transfers can also be arranged. All vehicles are climate controlled, immaculately cleaned and driven by efficient professional chauffeurs. To book please contact Reception.
For more information on our services contact the Reservations Team on +44(0)20 79385930 or email reservations@maykenbel.co.uk
Mayfair is a relatively small area with a big reputation. Within the mix of corporate headquarters and hedge funds you'll find Queen Anne revival-style architecture, luxury shopping, quirky boutiques, fine dining restaurants and friendly cafes. Located East of Hyde Park and north of Piccadilly, the best way to explore Mayfair is to wander the quiet streets and discover its delights for yourself and below are some suggestions to get you started:
Museums & Galleries:
The Royal Academy, Burlington House (on Piccadilly): founded in 1768 to provide a voice for art and artists, the Royal Academy is famous for its Summer Exhibition displaying work from up and coming artists and academicians.
Handel House Museum, 25 Brook Street: the London home of the baroque composer George Frideric Handel from 1723 until his death in 1759 and where he composed some of the greatest music in history.
54 The Gallery, 54 Shepherd Market: described as a 'jewel of gallery' and showing the very best in contemporary art.
Shopping:
Mayfair offers an eclectic mix of old, designer and exclusive destination shops.
Mount Street: designer fashion, jewellery and diverse. You'll find fashion houses Azzaro, Loewe, Lanvin, Céline and Oscar de la Renta alongside jewellers, a Porsche showroom and for cigar enthusiasts Alfie Turmeaus Tobacconist features a walk-in humidor.
Duke Street: leather goods, antiques, furniture, Nelsons 150-year-old pharmacy and Rake – a new menswear boutique.
North Audley Street: Truc Vert is the place to sample and buy gourmet delicatessen products and Richard Gelding is a must-visit for formal menswear and Italian-made shoes.
Burlington Arcade: built in 1819, today it's an emporium of specialist, independent retailers selling luxury leather goods, jewellery, pens, cashmere and fashion accessories.
Green and open spaces to rest and reflect:
Grosvenor Square: the second largest square in London is six acres of pristine lawns and is encircled by neo-Georgian houses and Embassies.
Mount Street Gardens: a peaceful sanctuary and one of the most important sites for nature conservation in London. Hidden behind red-brick mansion blocks and the neo-Gothic Church of the Immaculate Conception, there are plenty of benches and shade to while away an hour or two.
Brown Hart Gardens (just off Duke Street): one of the city's best kept secrets, a raised paved terrace that at street level you might not even notice. Located on the roof of the old Duke Street electricity substation, today the garden provides residents, shoppers and local office workers with a sunny, lofty space to escape the hustle and bustle of Oxford Street. There's even a cafe for refreshments – The Garden Café by Benugo.
Restaurants:
There are lots of restaurants around Mayfair and lots of different types of cuisine to choose from. Below are some suggestions:
Da Corradi – friendly, family-run Italian
20-22 Shepherd Market, London W1J 7QJ
The Little Square Restaurant – cosy bistro
3 Shepherd Market, London W1J 7PB
The Wolesley – great for breakfast and celeb spotting
160 Piccadilly, London W1J 9EB
Ceccoine's – traditional, high-quality Italian
5A Burlington Gardens, London W1S 3EP
Al Sultan – authentic Lebanese cuisine
51-52 Hertford St, Shepherds Market, London W1J 7ST
Benares – one of the best Indian restaurants in London
12A Berkeley Square House, Berkeley Square, Mayfair, London W1J 6BS
Hibiscus – 2* Michelin British cuisine
29 Maddox Street, London W1S 2PA
La Boudin Blanc – fine dining
5 Trebeck St, Shepherds Market, Mayfair, London W1J 7LT
Corrigan's Mayfair – fine dining
28 Upper Grosvenor St, London W1K 7EH
Umu – Japanese, the only Kyoto influenced restaurant in the UK
14-16 Bruton Place, Mayfair, London W1J 6LX
A short history: the area of Mayfair was first developed around 1686 and became the site for the annual May Fayre (a 15 day celebration from May Day and thought to have started in the days of Edward I to mark St James Day), a combination of market, entertainment and merriment, and very popular annual event. However, the combination of 'merry-makers' and residents meant there were regular calls for it to be banned for 'unsavoury and lewd' happenings and was eventually was closed at the order of Queen Charlotte in 1708.
With the May Fayre gone, the area rapidly became the London base of the aristocracy. Shepherd Market, the site where the fair used to take place, was developed in the mid-1700's creating the area's paved alleys, a two-storey market, theatre and duck pond.
After the First World War, the area went into decline. The aristocracy could no longer afford the great houses or find the servants needed to run them, and many were converted into flats or became private clubs.
During the Second World War, a shortage of office space as a result of bombing in the City forced the local authority to issue 50-year permits which granted the mansion owner's permission to use the properties for commercial purposes, which consequently changed the character of the area for most of the rest of the century. Today, however, Mayfair is still one of the best addresses in London.
To view Maykenbel's serviced apartments in Mayfair: