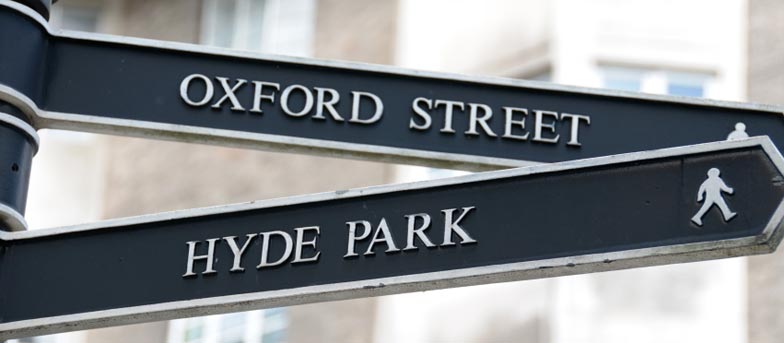 Bayswater, home to an eclectic and diverse population, is one of London's most cosmopolitan areas. The area is lined with Victorian stucco terraces, attractive streets and garden squares and there's a rich variety of shops, markets and restaurants to explore. Aside from easy access to Oxford Street, Hyde Park, Notting Hill and Westfield Shopping Centre, Bayswater's biggest advantage is its convenient location for travel links in and out of London and in particular, Heathrow Airport. (The Heathrow Express runs from Paddington mainline station every 15 minutes).
Places of Interest
Marble Arch – Built in the 19th Century, the Marble Arch was founded as the state entrance to the cour d'honneur of Buckingham Palace. Originally only members of the Royal Family and the King's Troop were permitted to pass through, which today still happens on ceremonial occasions. However, for visitors, it's a popular landmark located at the top of Oxford Street (and a good meeting point if needed).
St Sophia's Cathedral (Moscow Road, Bayswater) – St Sophia's Cathedral was the first Orthodox Church in London, built in the seventeenth century to serve the first Greek community in the area. Designed by architect, John Oldrid Scott, the church was consecrated on February 5, 1882, by the Archbishop of Corfu.
Museum of Brands, Packaging and Advertising – if packaging, logos and advertising is your thing or you're studying marketing, this museum is worth a visit. Around the corner from Portobello Market the collection holds over 12,000 items and displays the history of consumer culture from the Victorian era up to the present day.
www.museumofbrands.com
Porchester Spa – Dating back to 1929 The Portchester Spa is an oasis of calm and historic interest. With its Art Deco green and white tiles, high ceilings and original features still intact. The building houses three Turkish hot rooms, two Russian steam rooms, a cold plunge pool, sauna, swimming pool and a relaxation lounge. Certain days are either men or women-only, so it's best to check opening times, and there are also great packages and treatments available. The building is owned by Westminster Council and over the years it's been threatened with closure, but a well-deserved makeover has revived its fortunes – it might seem a bit old fashioned but it doesn't pretend to be anything else.
http://www.better.org.uk/leisure/porchester-spa/
Open Spaces
Hyde Park, London's most famous green space, is conveniently right on the doorstep and is open every day from 5am to midnight. It offers plenty of space and activities – come rain or shine and lots of history. The park area we acquired by Henry VIII in 1536 from the canons of Westminster Abbey, and was enclosed as a deer park and private hunting ground until James I permitted limited access to gentlefolk. Charles I created the Ring (north of the present Serpentine boathouses), and in 1637 he opened the park to the general public. Today, the park forms a chain from the entrance of Kensington Palace through Kensington Gardens and Hyde Park, via Hyde Park Corner and Green Park past the main entrance to Buckingham Palace and then on through Saint James's Park to Horse Guards Parade in Whitehall. http://www.royalparks.org.uk/parks/hyde-park/visiting-hyde-park.
Kensington Gardens: located West of Hyde Park was recently voted one of the UK's favourite outdoor spaces. It's a smaller, quieter space with lots of points of interest and places to explore: the Peter Pan statue, the Italian Gardens, the Serpentine Gallery and the Diana, Princess of Wales memorial playground.
http://www.royalparks.org.uk/parks/kensington-gardens/kensington-gardens-attractions

Shopping:
Bayswater is perfectly situated for shopping and there's plenty of choice close by, but for the more committed a short bus or tube journey will satisfy every shopping wish.
Whiteley's Shopping Centre– the site of London's first ever department store that started out as a drapery in 1867. Today, Whiteley's is home to over 50 department stores, including women's, men's and children's fashions. Gifts, books, beauty products, fashion accessories, a wide range of international restaurants, an 8 screen multiplex cinema, bowling diner and car park.
American Food Store– Starting out as a Newsagents and Post Office in Notting Hill, the American Food Store stocks over 1,000 truly American imported foods, and the real taste of the USA.
Portobello Road Market – the famous Portobello Road market offers a variety of antiquities, vintage clothing, street food, music, jewellery and much more. There's always a buzz and it's a great market to absorb the culture and current fashion trends.
Odabash – renowned for her swimwear, designer Melissa Odabash, has been described by Vogue as the 'Ferrari of swimwear. If you're looking for a swimwear solution or high-end beach fashion, the shop is definitely worth a visit.
http://www.odabash.com
Oxford Street – Known to be Europe's busiest shopping street, Oxford Street is home to over 300 stores and runs from Marble Arch right through to Tottenham Court Road. Many flagship stores can be found here, offering plenty of show and excitement, for the big chains such as Debenhams, John Lewis, and Selfridges. It is also a joyous place to be at Christmas, renowned for its Christmas light displays which are lit by a different celebrity each year.
Westfield Shopping Centre (Shepherd's Bush) – If you are looking for a large shopping mall, then Westfield is the place to go. Located right next to Shepherd's Bush station, the mall spans as much floor space as 30 football pitches. It contains over 225 stores, for all ages and styles, as well as The Village: the high-end retail area including the likes of Gucci, Dior, Louis Vuitton, and many more. If you fancy taking a break, there's also a cinema with the latest blockbusters on show throughout the day.
Restaurants:
Bayswater offers plenty of choice, from high street chains to diverse cuisines, below are some suggestions:
Maroush – Lebanese cuisine with music and belly dancing
45-49 Edgware Road
http://www.maroush.com/
Santorini Restaurant – Authentic Contemporary Greek Food
10 Moscow Road
http://www.santoriniw2.com/
Masala Zone – Indian Street Food
75 Bishops Bridge Road
http://www.masalazone.com/
The Swan – popular for authentic Fish & Chips
66 Bayswater Road
http://swanbayswater.co.uk/
Four Seasons – Original Branch, known for their Duck recipes
84 Queensway
http://www.fs-restaurants.co.uk/
A Short History: Previously belonging to the Abbey of Westminster, the name 'Bayswater' is believed to have originated from Bainiardus, an associate of William the Conqueror (who was crowned the first King of England in 1066) who also gave his name to Baynard's Castle. The area became known as 'Baynard's Watering' and later become abbreviated to Bayswater, was a remarkable source of spring water, supplying Baynard's household and cattle.
Many famous residents have lived within this area through the decades, including Alexander Fleming (the inventor of penicillin), Winston Churchill, Tony Blair, Keira Knightley, Sting and the artist Sir John Tenniel (Alice in Wonderland sketches).
Don't forget our 24-Hour Concierge service can help arrange your tickets, transport and restaurant reservations.
To view Maykenbel's serviced apartments in Bayswater:
Chilworth Court
Fountain House