Take a Tour and See the Sights
There's so much to see and do in London it's sometimes difficult to know where to begin. However, if you want a guide and a quick way to see everything, a tour can satisfy your curiosity and make the most of your time in the capital. In recent years the market for guided tours has expanded with companies now offering some fun, and or, exciting alternatives. Below are some London Tour suggestions and we'd love to hear what you think (email link):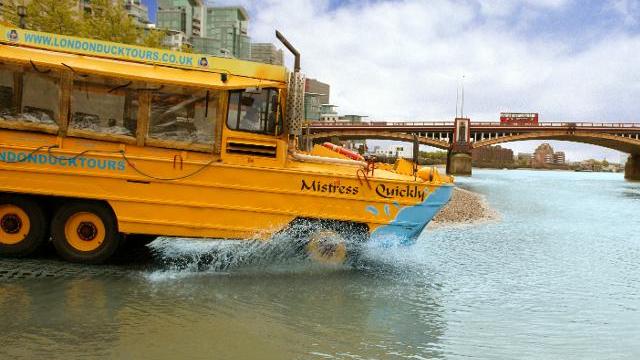 London Duck Tours: if you're looking for a tour in an alternative transport method, the Duck Tours are a great way to see the city. The tour starts out on a bus which then drops down a ramp, transforms into a boat and launches into the River Thames. It's a unique way to see London, from land and river. Themed tours are available and The Classic Tour lasts one hour 15 minutes.
Tickets: Adult from £24, Child from £16. Family ticket from £70.
https://www.londonducktours.co.uk/
London Tour Bus: if time is precious, an open-top bus tour is the best way to see the city. There are quite a few different companies offering tours and all offer a choice of routes that include London's best tourist attractions, accompanied by an entertaining commentary (available in a selection of languages). It's also a great way to get around the city because you can hop on or hop off at the destination of your choice. Some of the tours have additional river cruises and walking tours included and discounts to the key attractions. Discounts available for online booking. Tickets are valid for 24 hours.
Tickets: Adults £24, children £12. Family ticket £60.
https://www.bigbustours.com/en/london/london-bus-tours
Ghost Bus Tour: if you're interested in seeing the darker side of London, the theatrical ghost tour is a spooky treat. Travel through Leicester Scare and Notting Hell and learn about the ghosts of London, as well as the sites of murder, torture, and execution. Tours run twice daily at 7.30pm and 9pm and start just around the corner from Trafalgar Square.
Family ticket: £57, 2 adults, 2 children.
https://www.theghostbustours.com/london/
See London by Night: seeing London during the day is great, but it's even better at night! Lights illuminate the skyline and the familiar landmarks take on a different perspective. All the major sights are included: Houses of Parliament, London Eye, and St Paul's Cathedral, Tower Bridge, Piccadilly, Harrods and many more. Tours take approximately an hour and a half and the open top Double Decker bus picks up the passenger just by Green Park Tube station.
Tickets: £15 per adult, £10 per child
Speedboat Tours: if you've got a flare for adventure, then you should definitely consider a RIB tour. Enjoy the sites coupled with adrenaline and blitz down the Thames with your crew as you head down to Canary Wharf (the most popular tour and takes 50 minutes). The boats take a maximum of 12 people, which allows for more interaction with the guides.
Tickets: £29 per adult, £19 per child. Family ticket £80.
http://www.ribtourslondon.co.uk
Walking Tours: you'll see much of the city on a walking tour and the guides are always a mine of entertaining information. There's lots of choice and themes, most tours last up to two hours, always end at or near a Tube Station and booking isn't necessary – just turn up at the designated time and location.
Tickets: Adults £9, children free.
Bicycle Tours: bikes have become very popular in the capital over the past few years. These tours are great fun and, much like walking tours, cover various aspects of the City or you can rent a bike for the day and create your own tour.
Tours cost around £25 per person.
Total London Tour: if you really want to take-in the whole city in one day, then there's the intensive Total London Tour. Lasting 8 hours, it includes a guided tour of the Tower of London, the changing of the guard, Thames River cruise, and trip on the London Eye.
Tickets: £105 per person.
https://www.premiumtours.co.uk/tours/total-london-full-day-tour-with-the-london-eye
Afternoon Tea Tour: enjoy traditional Afternoon Tea whilst seeing the sights. This vintage London Double Decker bus will drive around Central London, taking in some of the City's best sights, whilst you can indulge in the fabulous BB Afternoon tea. The tour lasts around an hour and tour times are 12.30 and 3pm every day.
Tickets: £45 per adult, £35 per child.
http://www.bbbakery.co.uk/our-bakeries/afternoon-tea-bus-tour/