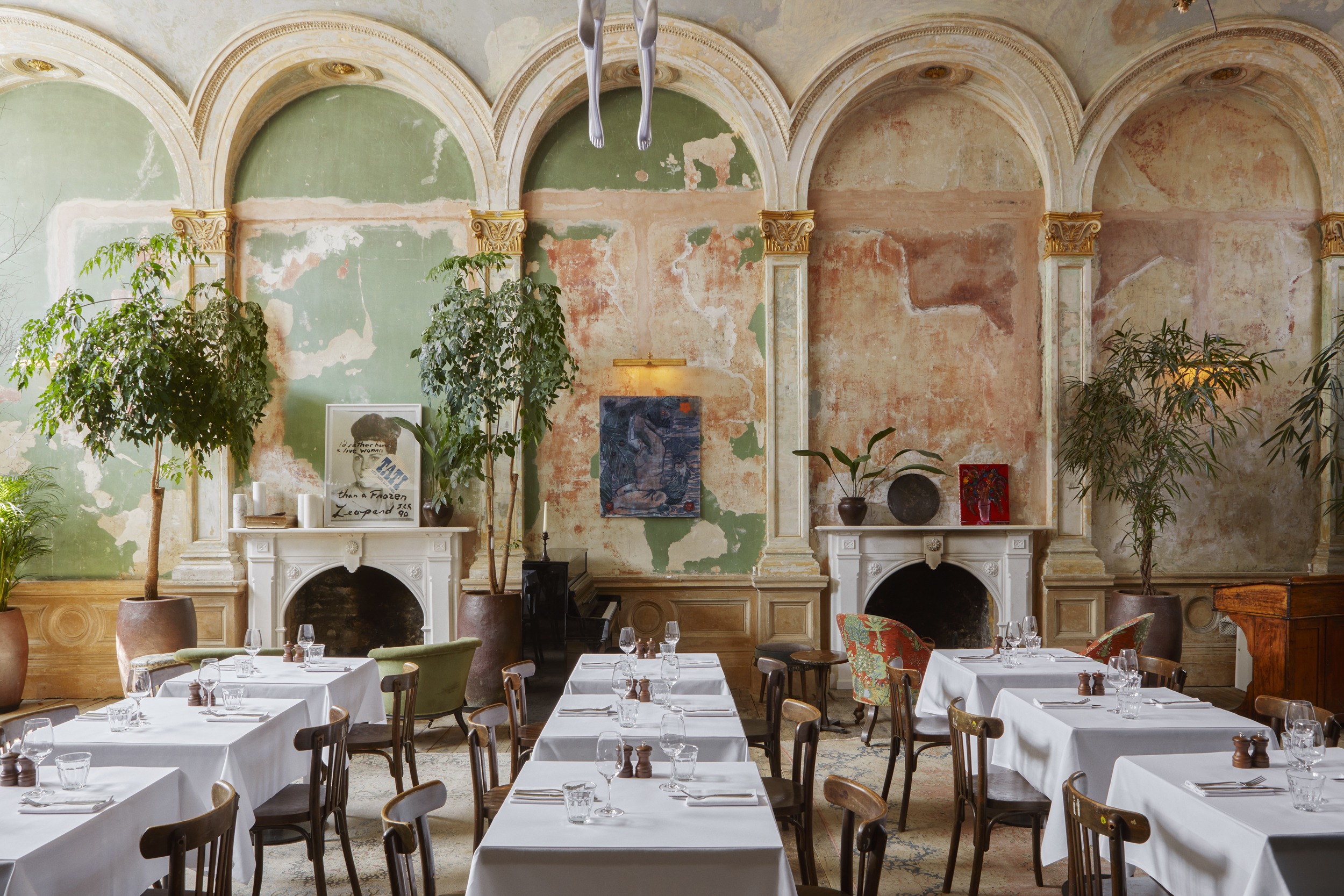 Romantic Things To Do in London: Amorous Locations, Restaurants and Activities
Romantic things to do in London: Amorous Locations, Restaurants and Activities for you and your Special Someone
London is truly the epitome of Britain. Awash with bright lights, busy streets and the hustle and bustle of everyday life. However, if you take a second to slow down and take in your surroundings, you'll notice the beauty of the little things: the detailed architecture, the array of mouth-watering smells and the ever-calm yet powerful flow of the great River Thames. Whether it's to mark a special occasion or create fond new memories, London is an incredible city to intimately accompany your loved one through and around. Perhaps that's why no matter the time of year, one of the questions we hear most often is "What are the most romantic things to do in London?".
That's why out of the countless spectacles London encompasses, we've devised a concise list (from experience) detailing our HOT picks for your dream London love story.
Let's dive in.
Romantic Restaurants in London:
1. Sessions Arts Club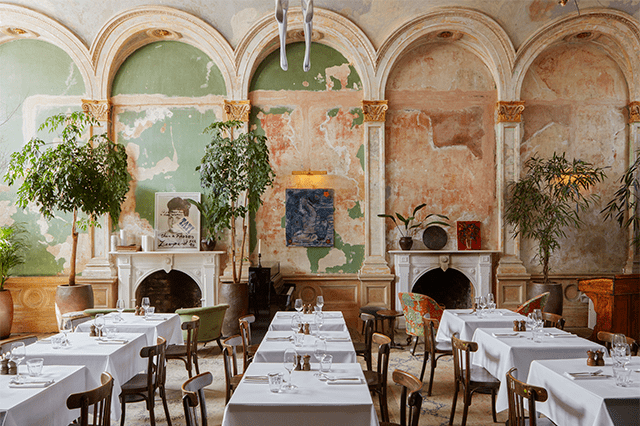 A scene fit for a fairy tale; one of the most acclaimed restaurant openings of the current time, inclusive of well-praised (and rightly so!) head chef Florence Knight. An elegant display from head to toe with flowing staircases, arched windows, and ornate fireplaces all wrapped up with stripped-down walls and velvet furnishings. Accompanying the divergent interior, the seasonal and diverse food is also remarkable.
Address: Sessions Arts Club, Old Sessions House, 24 Clerkenwell Green, EC1R 0NA
Website: sessionsartsclub.com
2. Andrew Edmunds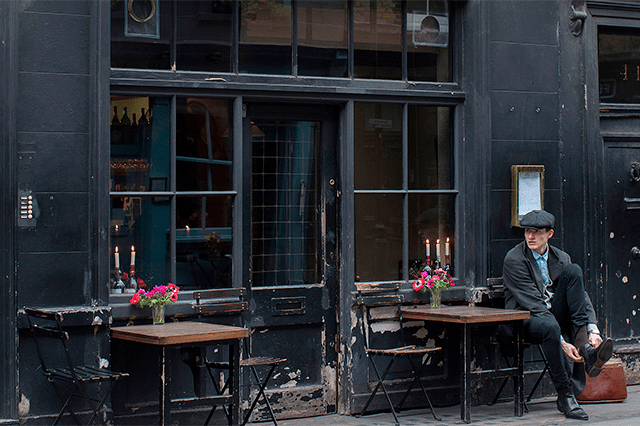 Oozing with old-school charm; the entrance is located through what seems to be an obscure black townhouse on Lexington Street. Upon arrival, you'll discover a narrow dining room with a dark wooden interior, white linen tablecloths and flickering candles – the recipe for a classic romantic dining experience. With over 30 years of enchanting dining and seasonal dishes, Andrew Edmunds is a surefire date spot if you're looking for a cosy and intimate meal with that special someone.
Address: Andrew Edmunds, 46 Lexington Street, W1F 0LP
Website: andrewedmunds.com
3. Hutong, London Bridge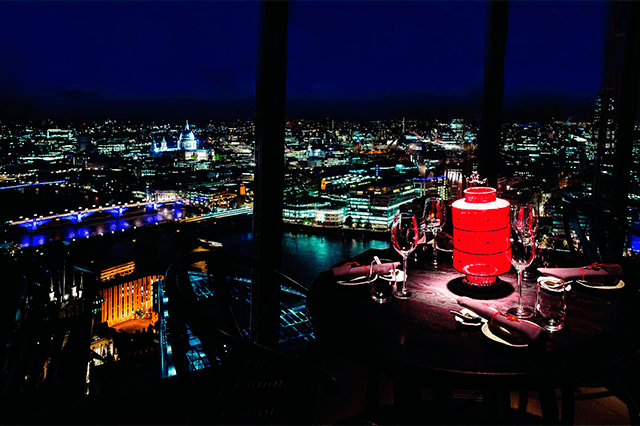 With chilli heat and killer views; The Shard never seems to disappoint, especially at nighttime. With views to make the heart skip accompanied by a fiery dim-sum selection to invigorate your palette – this will be a date to remember and one that your taste buds will never forget. Floor 33 will leave you both in awe and wonder at the opulent food (and surroundings!) for years to come.
Address: Hutong, The Shard, 31 St Thomas Street, London SE1 9RY
Website: hutong.co.uk
Romantic things to do in London:
1. Spend a day finding botanical bliss wandering Kew Gardens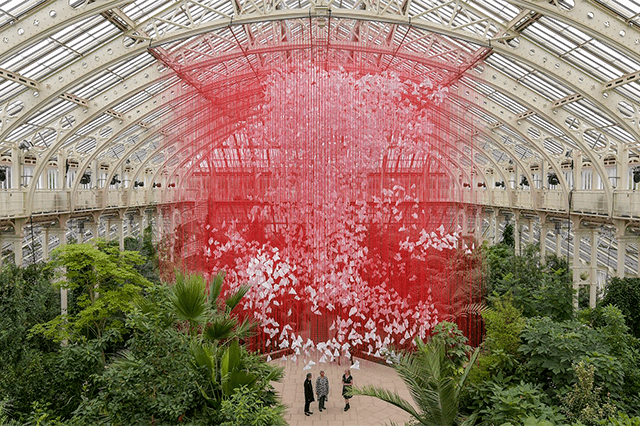 Stationed southwest, close by to Richmond, you will find the captivating landscape of the Royal Botanical Gardens and Kew. Housing more than 60,000 charming varieties of plants, alongside glasshouses and even a treetop walkway to get a top-down view of the scenery.
Delve into The Hive, where you will learn all about bees, admire the stunning Palm House, and marvel at the Princess of Wales Conservatory. Save yourself a plane ticket here and explore the ten different climatic zones!
With every season encompassing a new and picturesque look, it's worth a visit any time of the year. Our favourite time, Christmas at Kew features experiences that include contemporary illuminations, goodies, and an incredible light show timed to seasonal music.
Address: The Herbarium Kew Green, Kew, Richmond-upon-Thames TW9 3AE
Website: www.kew.org
2. Tantalise your taste buds at Camden Market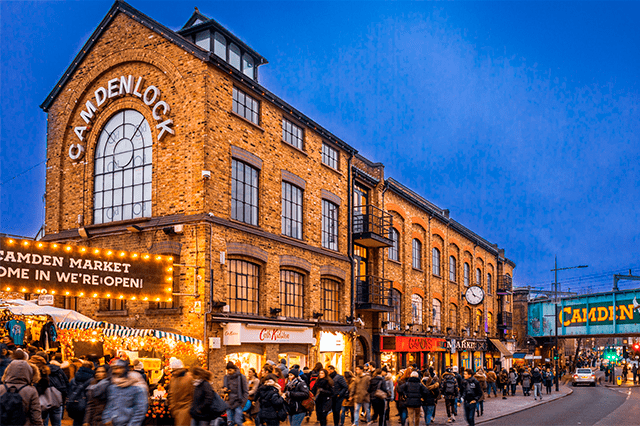 Holding a reputation for the eccentric and artistic, with over 450 stalls and shops, Camden Market is a great place to find quirky, unusual souvenirs and gifts – from trinkets to clothes and art, not to mention the seductive smells wafting from the enticing food stalls.
The gem that is the Electric Ballroom is filled with shops and stalls during the day, but when evening comes it transforms into one of London's premier music venues. Since the 1950s it has hosted both big names and up-and-coming artists including U2, the Red Hot Chili Peppers and even Paul McCartney. Nowadays it hosts names like Death Cab for Cutie and Kaiser Chiefs, so if you're in town have a look at what's on offer – it's a non-negotiable London experience.
Address: 32 Camden Lock Place, London NW1 8AF England
Website: www.camdenmarket.com
3. Embark upon a Sunset Cruise down the Thames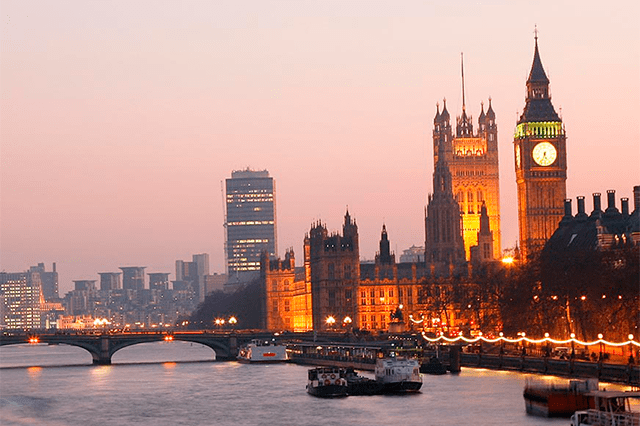 The remarkable architecture of London and its great structures as the sun goes down are some of the most alluring to note.
There are many companies offering evening trips along the Thames, including themed dinners and show cruises. Despite many of the routes varying, almost all of them pass under Tower Bridge and drift by Big Ben & the Houses of Parliament.
It's a marvellous way to gain unobstructed views of some of London's most popular sights. Plus, champagne on a boat at sunset? Pretty romantic if you ask us!
Address: Embankment Pier, London WC2N 6NU England
Website: www.cityexperiences.com/london/city-cruises
Romantic places in London:
1. Hampstead Heath Pergola and Hill Garden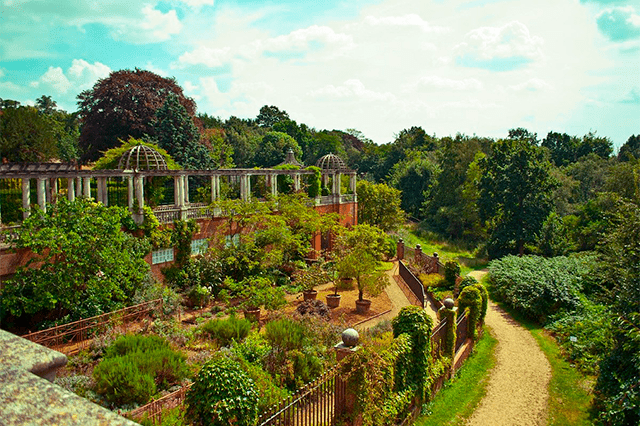 This elegant and formal Arts and Crafts garden is a sure favourite of local artists, and once you've been you'll surely understand why. In late spring, this little-known part of Hampstead Heath bares the raised, covered pergola; which is as long as Canary Wharf is tall and is adorned with wisteria. Irrespective of the season this spectacle would be a must-visit for some quiet and intimate time with nature. You might even be lucky enough to catch some long-eared bats roosting if you pass by during the evening.
Address: North End Way, Hampstead, London, NW3
Website: www.cityoflondon.gov.uk/hamsteadheathhillgarden
2. Primrose Hill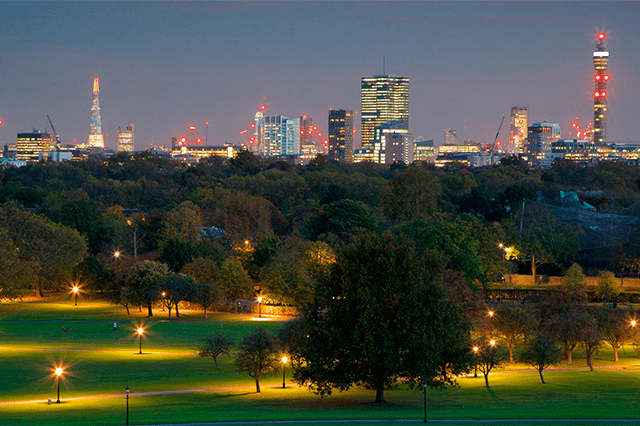 Being a relatively flat city, natural viewpoints in London are rare – Primrose Hill is one of those first-rate rarities. With a stunning view across the enchanting city lights, surrounded by tranquil trees and lush green fields, could there be a better place for a first kiss?
Address: Primrose Hill Road, London NW3 England
Website: www.royalparks.org.uk/primrose-hill
3. Little Venice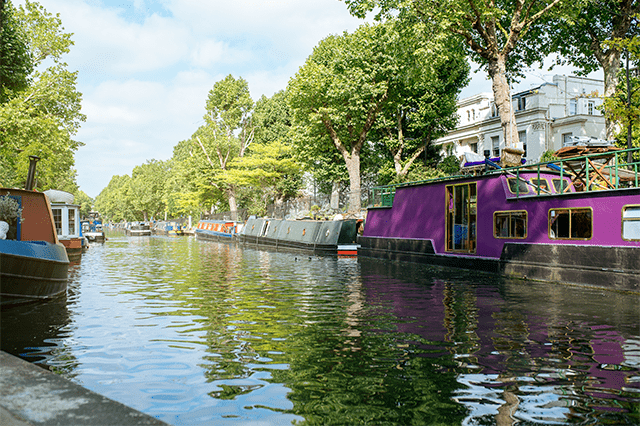 This quaint spot close to Paddington station is notable for its serene waterside feel and relaxed atmosphere – a reputable haven for busy couples looking to step out of the inner city. Take a romantic stroll along the banks of the canal and pass its splendid barges and bridges along the way. Little Venice also gives plenty of opportunities to take a pit stop and enjoy a refreshing glass of wine in one of its neighbouring riverside pubs.
Address: W9 2PF, off Blomfield Road, Pool of Little Venice
Website: www.visitlondon.com/little-venice
To conclude, whilst being a vast and diverse pool of music, food and scenery, London encompasses a monumental variety of intimate and awe-inspiring locations to spend time with your special person. The only question is…
Where will you go first?