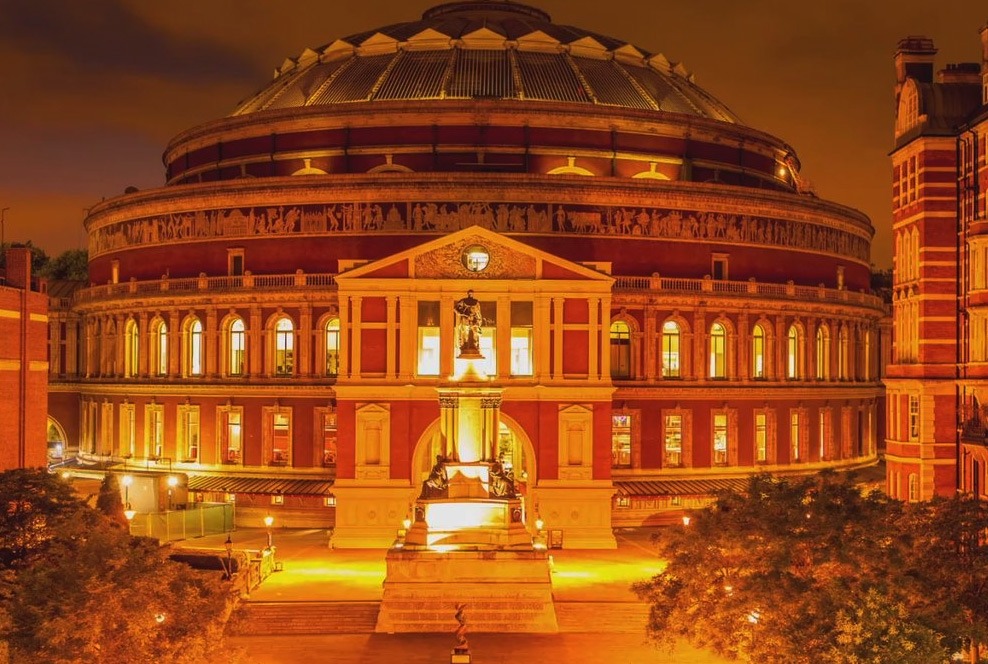 Home / The Royal Albert Hall
The Royal Albert Hall is one of the most iconic and famous concert halls in the world. Located in South Kensington, London, the hall is renowned for its stunning architecture, world-class acoustics, and prestigious history.
The Royal Albert Hall was opened in 1871 by Queen Victoria in honor of her husband, Prince Albert, who had died six years earlier. The hall was designed by Captain Francis Fowke and Major-General Henry Y.D. Scott in a distinctive circular shape, which has become synonymous with the venue.
Today, the Royal Albert Hall is a major cultural hub, hosting over 390 shows and events each year, ranging from classical music to rock and pop concerts, ballet performances, opera, and more. It is also home to the BBC Proms, one of the most celebrated classical music festivals in the world, which takes place every summer.
The hall's acoustics are world-famous, and many artists and performers consider it to be one of the best venues in the world for live music. The circular design of the auditorium ensures that every seat has a clear view of the stage and excellent acoustics, making it a favorite among performers and audiences alike.
In addition to its music performances, the Royal Albert Hall also hosts a range of other events, including charity galas, award ceremonies, and sporting events. It has played host to some of the most prestigious events in British history, such as the coronation of Queen Elizabeth II in 1953.
One of the most distinctive features of the Royal Albert Hall is its stunning Great Organ, which was installed in 1871 and is one of the largest instruments in the world. It has over 9,999 pipes, which range in size from just a few centimetres to over 10 meters in length.
The hall is also home to a range of restaurants and bars, including the famous Verdi Italian Kitchen, which serves a range of delicious Italian dishes. The hall's other dining options include the Elgar Room, which offers a unique dining experience accompanied by live music, and the Coda Restaurant, which serves modern European cuisine.
In summary, the Royal Albert Hall is an iconic cultural landmark in London, offering world-class music and entertainment, stunning architecture, and a rich history. It is a must-visit destination for anyone with an interest in music, architecture, or history, and it continues to be one of the most popular venues in the world for live performances.