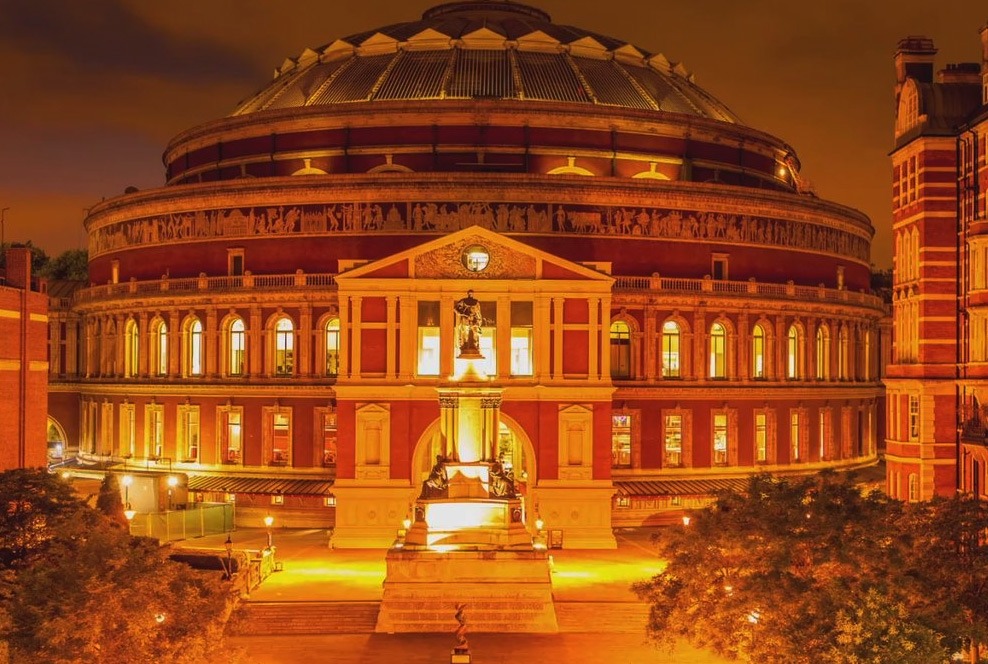 Home / The Royal Albert Hall
The Royal Albert Hall: Where History, Culture, and Grandeur Converge
The Royal Albert Hall stands as an iconic symbol of London's cultural heritage and a testament to the grandeur of Victorian architecture. Located in the prestigious borough of Kensington, this magnificent concert hall has captivated audiences for over a century with its awe-inspiring performances and unparalleled acoustics. From its storied history to its vibrant cultural offerings, the Royal Albert Hall is a must-visit destination for music enthusiasts and those seeking to immerse themselves in the rich artistic tapestry of the city.
Constructed in the late 19th century, the Royal Albert Hall was named in honour of Prince Albert, the beloved husband of Queen Victoria. Its design, a harmonious blend of Gothic and Byzantine styles, was the vision of architects Francis Fowke and Henry Scott. The hall was officially opened in 1871 and has since hosted a diverse range of events, including classical concerts, rock and pop performances, ballets, and prestigious award ceremonies.
The Royal Albert Hall's cultural significance extends beyond its architectural magnificence. It has played host to some of the most legendary musical talents in history, from classical composers like Wagner and Verdi to contemporary icons like The Beatles and Adele. The Proms, an annual summer music festival, is one of the hall's most celebrated events, attracting music lovers from around the world. The venue's exceptional acoustics and its ability to accommodate large orchestras and choirs make it a favoured choice for renowned ensembles and performers.
Beyond the enchanting performances that grace its stage, the Royal Albert Hall offers a range of behind-the-scenes tours, allowing visitors to explore its storied halls and learn about its fascinating history. From the magnificent auditorium to the Royal Retiring Room, these tours offer a glimpse into the inner workings of this architectural masterpiece and the stories that have unfolded within its walls.
Adjacent to the Royal Albert Hall lies Kensington Gardens, a sprawling green oasis that offers a peaceful respite from the city's hustle and bustle. This stunning park, once the private gardens of Kensington Palace, features manicured lawns, beautiful flower beds, and serene water bodies. Visitors can enjoy leisurely walks, picnics, and even boat rides on the picturesque Serpentine lake. The gardens also house iconic landmarks such as the serene Italian Gardens, the enchanting Peter Pan statue, and the Albert Memorial—a tribute to Prince Albert's enduring legacy.
For those seeking luxurious accommodations near the Royal Albert Hall, Maykenbel Properties offers a range of exquisite serviced apartments in the area. With our central location and impeccable amenities, Maykenbel Properties' apartments provide a comfortable and convenient base to explore the cultural treasures of Kensington. From elegant studios to spacious family residences, our properties exude style, sophistication, and a true sense of home away from home.