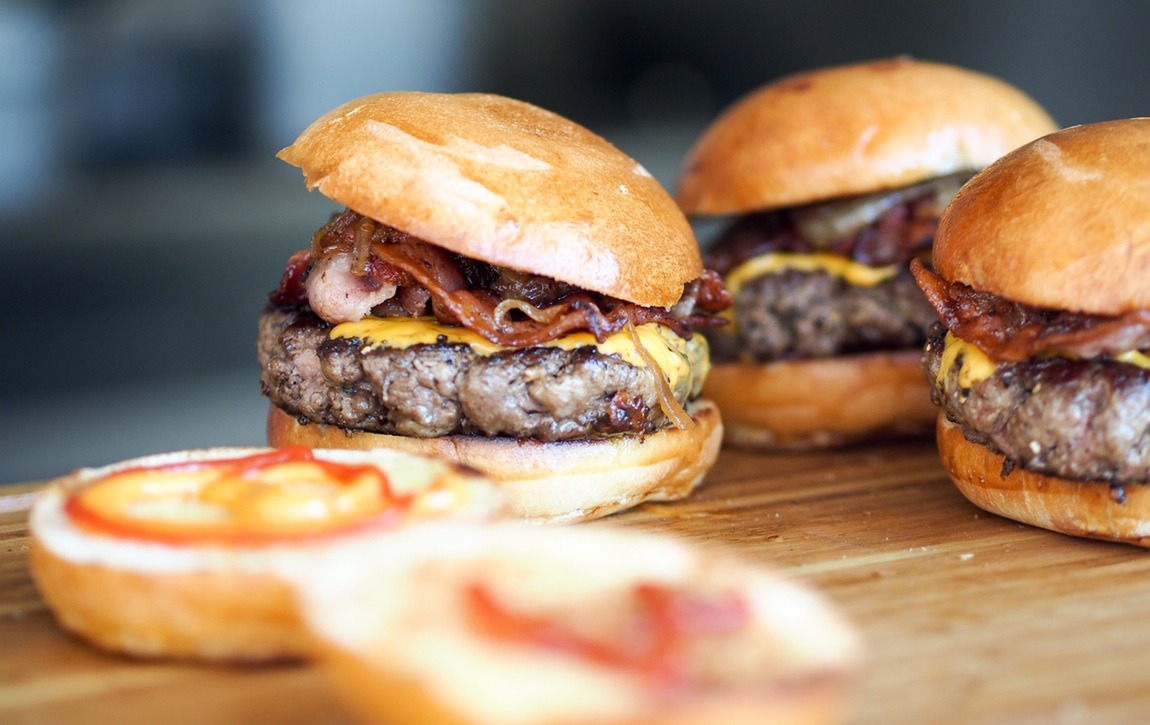 Finding that perfect Burger is the mission for many. When in London, you're bombarded left, right, and centre with some amazing burger bars, steakhouses, and smokehouses. Finding that perfect mixture can be difficult, but we thought we should introduce you to some of the best Burgers in the Capital. After all, it is National Burger Day!
Honest Burgers, Oxford Street
In 2011, Tom and Phil opened their first little unit in Brixton. Since then, they've had a major focus on quality: doing one thing, and doing it well. From there, Honest Burgers has grown to several stores across the capital, and are always full to the brim. Their humble approach to burgers has worked. When they started out, the meat they had wouldn't be delivered to their first store, and so they cycled up to Marylebone everyday to pick up the meat and return it to the store in a cooler bag.
Their menu is minimal, either a beef or chicken burger with a selection of toppings (and they offer a vegetarian alternative too). Heck, they even do a fancy beans on toast. Check it out here: http://www.honestburgers.co.uk/
Meat Liquor, Bond Street
This is an interesting one. The décor inside is like that of an abandoned warehouse. Satirical graffiti lines the ceiling and walls, and you peer curiously around the whole interior for hidden jokes others haven't noticed. The aroma hits you in the face as you walk in – that soft smell of cooked meat, cheese, and chips. You know you're in the right place. Taking your seat in this dimly lit restaurant, you're offered an eclectic collection of cocktails (my favourite being Louisiana Jam), and the menu. They have rolls and rolls of kitchen towel on cue, and trust me – you'll need it.
If you're looking for a traditional American style dive, this is the place to visit. They do offer vegetarian alternatives too (which they used to name 'Rabbit Food'). http://meatliquor.com
Dirty Burger, Shoreditch
Whether you visit the hidden Dirty Burger in Camden, or the larger branch in Shoreditch, these burger shacks are simplicity at its finest. You walk in and are greeted by a hot plate and a chef cooking away. The menu is simple: burgers, beer, and shakes. If you're looking for a quick meat-fix, drop in to Dirty Burger (and maybe bring some wet wipes – it gets greasy). http://www.eatdirtyburger.com
Bodean's BBQ, Soho
Drop into the basement of Bodean's in Soho, and you're in for a barbecue treat. Whether you are after a burger, ribs, or a steak – it's all on offer here. The portions are oversized (can't complain!) and they have a great selection of local and independent beers. If you can have dessert, I'll be impressed! http://www.bodeansbbq.com/site/
Elk Bar, Fulham
A little closer to the West End, Elk Bar is a lovely little place in Fulham. If the weather is good, take a seat outside and watch the chef grill your burger on the bar. Served on a wooden platter with a handful of chips, these burgers are divine. They do great deals on independent beers, too, which is always a bonus. If you're wondering the shops, take a break and enjoy a bit in Elk. http://www.elkbar.com