Ashburn Court
Kensington, London SW7 4DP
★★★★
Com­fort & Ser­vice in exclu­sive Kens­ing­ton: Ash­burn Court ser­viced apart­ments are ide­al for busi­ness trav­ellers and fam­i­lies look­ing for a home away from home while stay­ing in Lon­don. The 19 apart­ments range from Stu­dios right through to a Three Bed­room Suite, with a choice of Stan­dard and Deluxe avail­able, and all face east and west and have been designed to max­imise light. Ash­burn Court's 4 star apart­ments are all com­fort­ably fur­nished, include air con­di­tion­ing and ful­ly equipped Kitchens.
South Kens­ing­ton is the per­fect loca­tion to explore and enjoy the city: close to Hyde Park, the Roy­al Albert Hall, Earl's Court Exhi­bi­tion Cen­tre and three of the capital's world famous muse­ums: The V&A, Sci­ence and Nat­ur­al His­to­ry, it also has easy trav­el links to the West End the­atres and tourist sites, the polit­i­cal hub of West­min­ster and London's busi­ness dis­tricts. Close by is Glouces­ter Road with its attrac­tive shops and small super­mar­kets to cater for every-day needs, while Knights­bridge, Sloane Street and King's Road, are just min­utes away for more seri­ous shop­ping excur­sions.
Apart­ment Rat­ing: ★★★★
Facilities:
Photos are representative of typical apartments within the property
Price on enquiry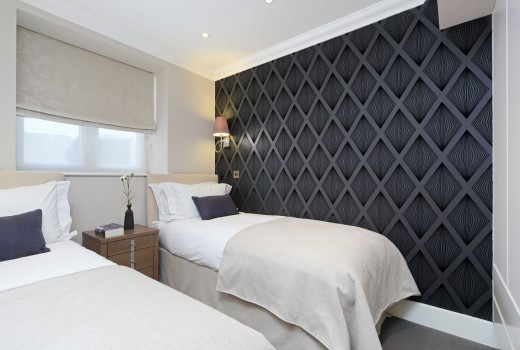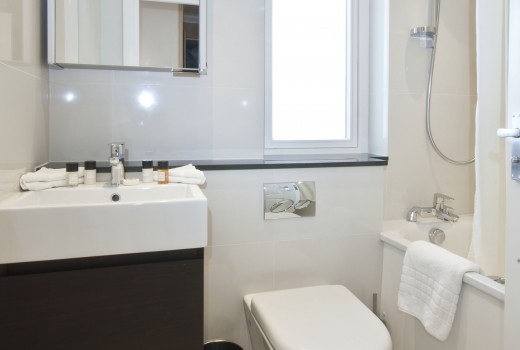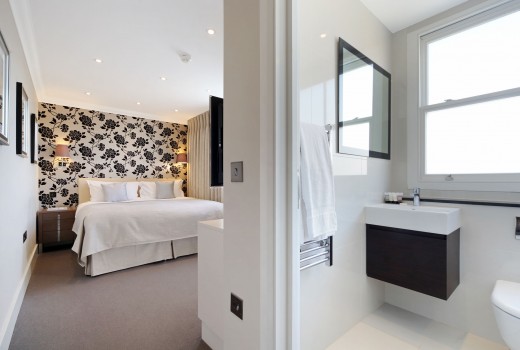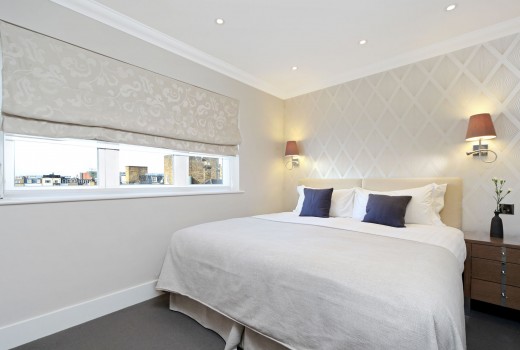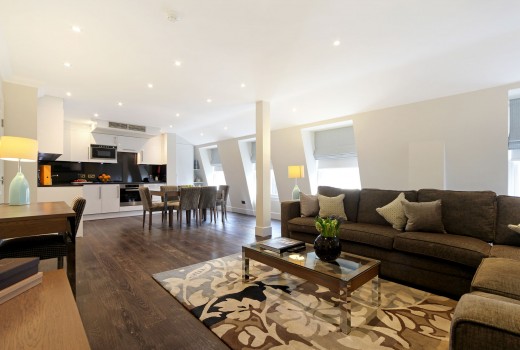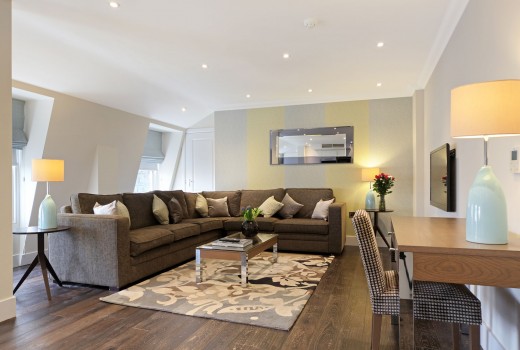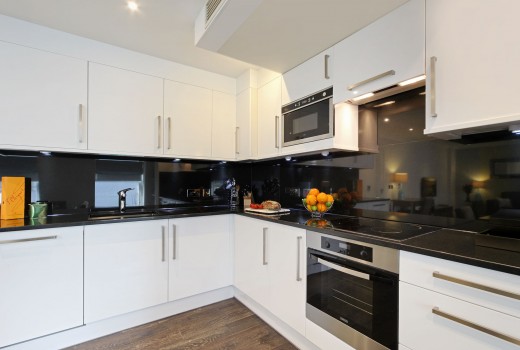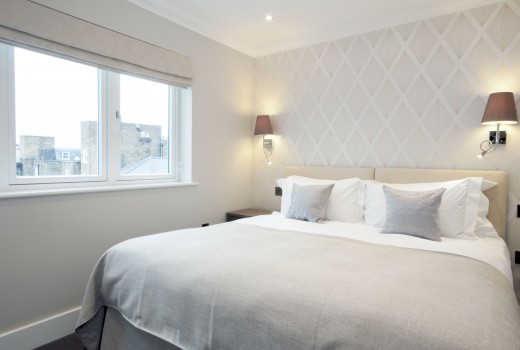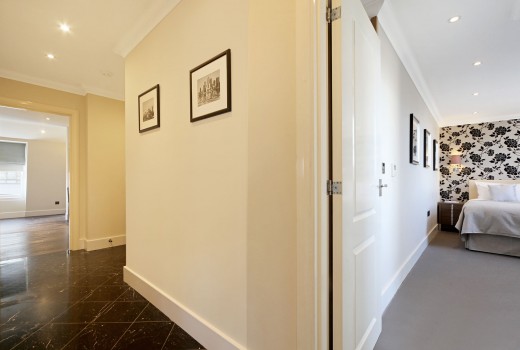 Ashburn Suite
Three Bed­room apart­ment locat­ed on the Fifth Floor offers extend­ed space, lux­u­ry and com­fort. The com­fort­ably fur­nished Living/Dining area fea­tures pre­mi­um audio/visual equip­ment includ­ing flatscreen TV/DVD with satel­lite and Free­view chan­nels and music sys­tem. The gen­er­ous sized Kitchen is ful­ly equipped with high qual­i­ty mod­ern appli­ances. All three Bed­rooms include a King-size bed (if pre­ferred can be split into twin beds) and are fit­ted with cus­tom designed wardrobes for stor­age. The two Bath­rooms are fit­ted with bath and pow­er show­er and there is a guest WC.
Photos are representative of typical apartments within the property
Lux­u­ry Car Trans­fer Ser­vice
We pro­vide high class vehi­cles to help you get around Lon­don and to your des­ti­na­tion. Air­port trans­fers can also be arranged. All vehi­cles are cli­mate con­trolled, immac­u­late­ly cleaned and dri­ven by effi­cient pro­fes­sion­al chauf­feurs. To book please con­tact Recep­tion.
For more infor­ma­tion on our ser­vices con­tact the Reser­va­tions Team on +44(0)20 79385930 or email reservations@maykenbel.co.uk
Kens­ing­ton is the ide­al cen­tral Lon­don loca­tion with lots to explore, see and do: Roy­al Palaces, three world famous muse­ums, green open spaces and parks, a famous con­cert hall, Impe­r­i­al Col­lege, plen­ty of shop­ping oppor­tu­ni­ties, restau­rants and cafes, and excel­lent trans­port links to the­atre land in the West End and the city's busi­ness dis­tricts.
Locat­ed west of Hyde Park and bor­dered by Not­ting Hill and Knights­bridge, Kens­ing­ton High Street is the com­mer­cial heart, and South Kens­ing­ton, often described as 'London's cul­tur­al heart­land', is one of the most afflu­ent areas in Lon­don. There are also lots of inter­est­ing archi­tec­ture and hid­den pock­ets of inter­est in the area, so it's well worth strolling through the streets that run off the main roads.
Museums, Galleries
&

Music

With­in a 5–10 minute walk from any of our Kens­ing­ton prop­er­ties (see links below) you'll find London's three most pop­u­lar muse­ums. Entry is free (although spe­cial exhi­bi­tions require tick­ets) and late night open­ings make it pos­si­ble to avoid the crowds.

The Nat­ur­al His­to­ry Muse­um exhibits ele­ments of nat­ur­al his­to­ry, such as plants, ecosys­tems, ani­mals, pale­on­tol­ogy and much, much more. Famous for the huge dinosaur skele­ton that dom­i­nates the main hall, many of the col­lec­tions have great his­tor­i­cal as well as sci­en­tif­ic val­ue, with sev­er­al spec­i­mens col­lect­ed by Charles Dar­win. It would be easy to pass a day brows­ing the exhibits there are lots of spe­cif­ic children's activ­i­ties such as games, quizzes and down­loads.

Vic­to­ria & Albert Muse­um (or, The V&A as it is com­mon­ly known) — the world's largest muse­um of dec­o­ra­tive arts and design with over 4.5 mil­lion objects in its per­ma­nent col­lec­tion. Named after Queen Vic­to­ria & Prince Albert and dat­ing back to 1836, the muse­um hous­es art­works span­ning over 5,000 years from dif­fer­ent cul­tures across the globe.

Sci­ence Muse­um – found­ed in 1857 by Ben­net Wood­croft from the col­lec­tions of the Roy­al Soci­ety of Arts and items from the Great Exhi­bi­tion. Today, the muse­um con­tains a col­lec­tion of machin­ery, cars, space explo­ration items, and a recre­ation of the Crick & Watson's mod­el of DNA.

Leighton House Muse­um — the only pur­pose built stu­dio-house in the UK that is open to the pub­lic. One of the most remark­able build­ings of the nine­teenth cen­tu­ry it con­tains a col­lec­tion of paint­ings, sculp­ture and the famous Arab Hall.
12 Hol­land Park Rd, Lon­don W14 8LZ

The Roy­al Albert Hall opened in 1871 and was built to ful­fil the vision of Prince Albert (Queen Victoria's con­sort) of a 'Cen­tral Hall' to pro­mote appre­ci­a­tion of the Arts and Sci­ences. It is a reg­is­tered char­i­ty held in trust for the nation and receives no fund­ing from cen­tral or local gov­ern­ment.

Roy­al Col­leges of Art and Music (RCM – sit­u­at­ed direct­ly oppo­site The Roy­al Albert Hall) is one of the world's great con­ser­va­toires, train­ing gift­ed musi­cians from all over the world for inter­na­tion­al careers as per­form­ers, con­duc­tors and com­posers. Found­ed in 1882 by the Prince of Wales (lat­er Edward VII), today the col­lege has 750 stu­dents from more than 60 coun­tries study­ing at under­grad­u­ate, mas­ters or doc­tor­al lev­el.

Impe­r­i­al Col­lege Lon­don – found­ed in 1907, Impe­r­i­al Col­lege Lon­don is rat­ed among the world's best uni­ver­si­ties with a rep­u­ta­tion for excel­lence in teach­ing and research.
Shopping:
Kens­ing­ton High Street buzzes with retail activ­i­ty and is great for high street brands and, qui­eter Kens­ing­ton Church Street (which runs up to Not­ting Hill), is good for brows­ing small­er, bespoke shops.
For more seri­ous shop­ping, the choic­es are to go east or west: a short bus ride east for Har­rods and Har­vey Nichols depart­ment stores in Knights­bridge, and west for West­field Shop­ping Cen­tre (near­est tube sta­tion Shepherd's Bush, Cen­tral Line).
www.westfieldeditme.com
Parks:
Kens­ing­ton Palace Gar­dens: once the pri­vate gar­dens of Kens­ing­ton Palace, cov­ers an area of 242 acres and as well as the open space there are lots of points of inter­est: The Albert Memo­r­i­al (at the south-east cor­ner and oppo­site the Roy­al Albert Hall), Kens­ing­ton Palace (the offi­cial res­i­dence of the Duke & Duchess of Cam­bridge), the Peter Pan stat­ue, the Ital­ian Gar­dens, Ser­pen­tine Gallery and the Diana, Princess of Wales memo­r­i­al play­ground. And it was recent­ly vot­ed one of the UK's favourite out­door spaces.
Hyde Park is London's most well-known park, cov­ers 350 acres and opens every day from 5am to mid­night, is home to famous land­marks includ­ing the Ser­pen­tine Lake, Speaker's Cor­ner and the Diana, Princess of Wales Memo­r­i­al Foun­tain. The park also offers lots of activ­i­ties includ­ing open water swim­ming, boat­ing, cycling, ten­nis and horse rid­ing. And, if you hap­pen to be tak­ing an ear­ly morn­ing walk there's a chance you'll see the House­hold Cav­al­ry on exer­cise.
Hol­land Park is con­sid­ered to be one of the most roman­tic and peace­ful parks in West Lon­don. It's much small­er at 54 acres with gar­dens, a children's play­ground, sports areas, café and areas of wood­land. With­in the park is the beau­ti­ful Kyoto Gar­den; a Japan­ese gar­den donat­ed by the Cham­ber of Com­merce of Kyoto in 1991.
Restaurants:
Kens­ing­ton offers plen­ty of fine din­ing cui­sine, cafés and chain restau­rants that wel­come fam­i­lies. Below are some sug­ges­tions that are all easy walk­ing dis­tance from Maykenbel's Kens­ing­ton apart­ments:
Baby­lon: fine din­ing and amaz­ing views over London's sky­line
99 Kens­ing­ton High Street, Lon­don W8 5SA
Mag­gie Jones: cosy, rus­tic, infor­mal – a local favourite
6 Old Court Place, Kens­ing­ton, Lon­don W8 4PL
Roc­ca: friend­ly Ital­ian with heat­ed ter­race to sit and enjoy the views all year round
73 Old Bromp­ton Rd, Lon­don SW7 3JS
Scoff & Ban­ter: (col­lo­qui­al trans­la­tion: eat and chat) cock­tails and British menu
68–86 Cromwell Road, Lon­don SW7 5BT
Light of India: the best Indi­an restau­rant in Kens­ing­ton
67–69 Glouces­ter Rd, Lon­don SW7 4PG
Ranoush: Lebanese cui­sine in Kens­ing­ton
86 High Street Kens­ing­ton, Lon­don W8 4SG
Bill's: friend­ly chain restau­rant good for break­fast, lunch or after­noon tea
Kens­ing­ton Arcade, 125 Kens­ing­ton High St, Lon­don W8 5SF
Café Rouge: French bistro style food with lots of space for fam­i­lies
2 Lancer Square, Lon­don W8 4EH
Kitchen W8 (11–13 Abing­don Road) a bit fur­ther out but well worth inves­ti­gat­ing. The menu is a la carte dur­ing the week and Sun­day lunch is very rea­son­ably priced for three cours­es – the bit­ter choco­late pave with salt caramel ice cream and hon­ey­comb is not to be missed.
A short his­to­ry: Until the mid-1800s the area was large­ly used for farm­ing, sup­ply­ing Lon­don with fruit and veg­eta­bles. In 1851 the Great Exhi­bi­tion, a spec­tac­u­lar inter­na­tion­al expo to show­case Great Britain's achieve­ments in indus­try, com­merce and cul­ture, was held at the famous Crys­tal Palace in Hyde Park. The Com­mis­sion­ers of the Exhi­bi­tion went on to pur­chase large areas of Kens­ing­ton to cre­ate a home for insti­tu­tions ded­i­cat­ed to the arts and sci­ences, result­ing in the foun­da­tion of the Vic­to­ria and Albert Muse­um, the Sci­ence Muse­um and the Nat­ur­al His­to­ry Muse­um and the Impe­r­i­al Insti­tute.
To view Maykenbel's ser­viced apart­ments in Kens­ing­ton: